As far as I can see the main issues with wiring batteries in parallel are
Making sure that the current is shared equally between the batteries so that the they are all put under equal stress so they all have the same lifespan
Making sure that each of the batteries has enough "absorb time" so that all the batteries will be fully charged but not overcharged.
If both these criteria are fulfilled then I don't think there should be any issue with putting batteries in parallel.
I think the main problem with criteria 1 is that the most obvious way to wire batteries in parallel is like the diagram below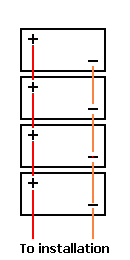 I wouldn't be surprised if a large number of installations are wired like this. The problem is that this configuration can lead to the current in the last battery in the chain being around half the current in the first battery! This problem is easily fixed by following the guidelines from Smartgauge.
If the batteries all have different internal impedance/resistance even if the wiring is done correctly the batteries will not share the current evenly. The battery with the highest impedance/resistance will draw or supply the least current. Is this a problem? Surely the weakest cell should be pampered, if it supplying less of the load I would think it would deteriorate at a slower rate to the other batteries. This would be a self balancing mechanism.
The second issue is only a problem with LA batteries. All LA batteries need enough "absorb time" to make sure the battery is fully charged to stop sulphation but extended time at high charge voltages reduces their lifespan. This problem cannot be eliminated but can be minimised by making sure that all the batteries being paralleled are the same age (preferably new), have the same history and are the same make and model and preferably from the same manufactured batch. I think the same problem occurs with LA cells or batteries in series.
Regardless of battery chemistry if there is a mismatch in battery impedance/resistance the cells/batteries with the higher impedance/resistance will charge or discharge at a slower rate which will mean that regardless of battery chemistry unless there is some "absorb time" the cells/batteries will not be at the same SOC. I doubt this will be a big problem with all chemistries except LA.
Am I missing something?
Simon
Off grid 24V system, 6x190W Solar Panels, 32x90ah Winston LiFeYPO4 batteries installed April 2013
BMS - Homemade Battery logger github.com/simat/BatteryMonitor/wiki
Latronics 4kW Inverter, homemade MPPT controller